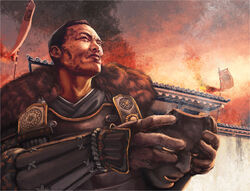 Daigotsu Bofana was a tainted bushi and scout of the Spider Clan. He was considered a paragon of shourido, the Dark Scion of Fire.
He was alleged to have travelled in the Northern Steppes in search of the reclusive Dark Oracle of Fire in order to acquire his blessings. No one could say whether this was a mere rumour of if there was truth to it. However, there was no denying that fire burned in Bofana's eyes and that his wrath consumed all before it like a wildfire. [1]
Colonies
Edit
Bofana moved to the Colonies and became one of the Imperial Explorers. [2] There he tracked down the remnants of the Cult of Ruhmal. [3]
In the aftermath of the Siege of the Second City, the governor Otomo Suikihime had gone into hiding, and Shinjo Tselu left the city in searching for her. He appointed Shinjo Sanenari as the commanding officer of the Ivory Legion in his absence. When outbreaks began to happen in the Second City, Kitsuki Fujimura joined Kuni Renyu, Sanenari, and Akodo Tsudoken to decide how to keep order. The Imperial Legion camped outside the city was without command, as Shinjo Kinto was kept as hostage by the elder imperial Otomo M'rika. Daigotsu Bofana appeared and proposed Renyu a deal, to ask a favor to the Spider, a clan the Kuni Daimyo despised, in exchange for the release of Kinto, which would lead the Legion as peacekeepers within the city. During the meeting part of Daigotsu Gyoken's detachment rushed into the Governor's estates and attacked the group. The samurai managed to defeat the assailants. [4]
External Links
Edit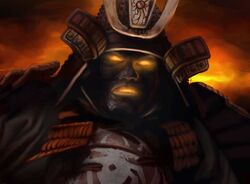 References