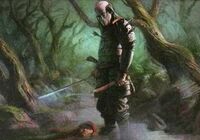 Daigotsu Arima was a tainted bushi of the Spider Clan.
Destroyer War
Edit
In 1173 during the Destroyer War Arima was under the command of Daigotsu Shimekiri, [1] who had been appointed as an Uruwashii, so he was in charge of Imperial forces, on the behest of the Emerald Champion Shosuro Jimen. [2]
Hare lands
Edit
In the battle of Meidochi in the Hare lands the Imperial forces were fighting the Destroyers alongside Crane forces. Arima in the heart of the battle used his abilities on their full extent. Kakita Hideshi saw his supernatural feats, exposing Arima as tainted, and member of the Lost. Hideshi's first reaction was to take Arima's life, but the Spider parlayed about the opportunity of this action, which would reduce one defender against the forces of Kali-Ma. Hideshi agreed with rage and left Arima unharmed. [1]
Great Clan
Edit
After the end of the war the Spider were elevated to Great Clan status, and Arima became a servant of the Empire. He met Kakita Hideshi at Kyuden Doji. The Crane was tainted but kept it in secrecy. Arima sensed his taint and encouraged him to accept the dark blessings and became a member of the Spider, but the Crane left him. The next day Hideshi revealed himself as tainted in front of the Crane court and committed seppuku. [3]
External Links
Edit
References
Ad blocker interference detected!
Wikia is a free-to-use site that makes money from advertising. We have a modified experience for viewers using ad blockers

Wikia is not accessible if you've made further modifications. Remove the custom ad blocker rule(s) and the page will load as expected.