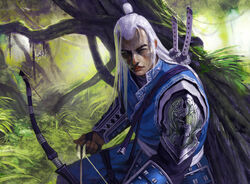 Daidoji Yuki was a bushi and an Iron Crane scout of the Crane Clan. He worked with Daidoji Ebizo. [1]
Destroyer War
Edit
In 1172 an opened portal to Sakkaku was deaklt by the Lioness Legion, Iron Warriors, and Mirumoto Elite Guard. The portal was open long enough for a powerful spirit to become its guardian. The Ise Zumi Togashi Shintaro told the portal guardian a riddle of some sort it could not answer, weakening the spirit greatly. Yuki shot the thing in the eye and killed it, which caused the portal to collapse. [2]
External Links
Edit
References
Ad blocker interference detected!
Wikia is a free-to-use site that makes money from advertising. We have a modified experience for viewers using ad blockers

Wikia is not accessible if you've made further modifications. Remove the custom ad blocker rule(s) and the page will load as expected.