Hida Yohko was a member of the Crab Clan until she was disgraced for the use of maho. She became a ronin until she met Doji Hayaku who was travelling into the Shadowlands to find his lost sister. Hayaku founded the Daidoji family upon his return to Rokugan, the two were married and she became Daidoji Yohko.
Early Life
Edit
Yohko began her life as a Hida, embracing the goals of the Crab Clan. Unfortunately she began to wield maho in the fulfillment of her duties, and although she successfully protected her family she was cast out as a ronin. [1]
How long Yohko spent as a ronin is unknown, however it was known that she encountered her future husband Doji Hayaku in the Shadowlands and assisted him in his search for his lost sister Doji Konishiko. Given her deep and abiding hatred of the Dark Kami and his minions, it was believed that it had been her intention to die fighting in the Shadowlands. Whatever she saw in Hayaku, it was enough to renew her desire to live, and together they escaped the Tainted Lands bearing Shukujo. [1]
Alternate Tale
Edit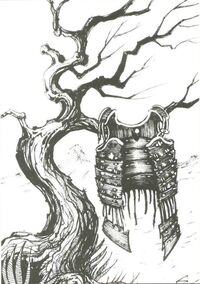 Others said that Hayaku found that Konishiko had joined her brother's soul after she died, and both spirits were bound to Ancestral Sword of the Crane. Hayaku heard his sister's voice calling from Jigoku, so Hayaku took his own throat and journeyed after them. When he freed the sword from the demon realms, he saw the dying body of Yohko chained to a tree. Hayaku occupied her body, and sliced the body free of the armor that bound her. They returned as one person to the place where Hayaku's body laid, and Yohko used her powers to return Hayaku to his body. They fell in love, returning to Rokugan. Hayaku never questioned why she had been left alone in the Shadowlands, neither the source of her powers. [2]
Marriage
Edit
Yohko and Hayaku were married shortly after their escape from the Shadowlands. Although she earned the trust of her new father- and mother-in-law to be accepted into the Clan, some high-ranking Crane never managed to trust the mysterious woman from the Shadowlands and continued to speak against her. [1]
References
Ad blocker interference detected!
Wikia is a free-to-use site that makes money from advertising. We have a modified experience for viewers using ad blockers

Wikia is not accessible if you've made further modifications. Remove the custom ad blocker rule(s) and the page will load as expected.