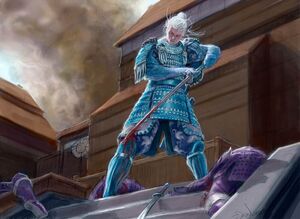 Daidoji Ujirou was a bushi and scout of the Crane Clan.
Topaz Championship
Edit
Ujirou was selected as one of the contenders in the Topaz Championship on the year of his gempukku. He did not emerge victorious, but brought honor to his clan, as Shiba Jaishu and Hiruma Itta. The Phoenix paid for all sake for any competitors who were present during the celebration that night, and Itta proved what a Crab could drink. [1]
Mourning a Friend
Edit
In 1199 Ujirou and Itta met other friends of Jaishu as Utaku Sang-Ju and Shiba Michiki. The group mourned Jaishu, who had died of an illness during the winter. [1]
External Links
Edit
References