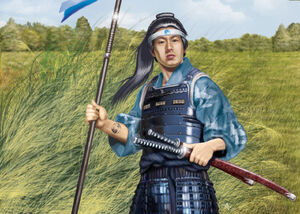 Daidoji Tsunehiko was a bushi and Iron Crane scout of the Crane Clan.
Ivory Magistrate
Edit
In 1198 Tsunehiko and Akodo Tamisu were recalled by the Ivory Champion Shinjo Tselu. They were appointed as Ivory Magistrates, and ordered to find and take in custody any copy of the Egg of P'an Ku they could find, so they could be destroyed. Tselu showed them the doppleganger of Shosuro Keirei, as example the eggs were incredibly dangerous. [1]
Seeking the Eggs
Edit
Tamisu and Tsunehiko found several people involved with the eggs, as Hida Bakishi, who had copied the monster known as the Devourer, or the duplicate of Yoritomo Saigo. [2]
External Links
Edit
References