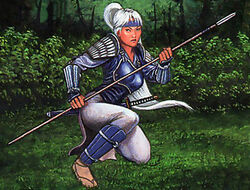 Daidoji Tani was a harrier of the Crane Clan.
Fires of Toshi Ranbo investigation
Edit
In 1166 Daidoji Kikaze, alongside with Daidoji Takihiro, the Merenae gaijin Esteban Cornejo, and Tani were led to Esteban's long lost cousin, Rodrigo Cornejo, in an Ashalan hideout in the Plains Above Evil. They were investigaring the arsonist of the Fires of Toshi Ranbo. Rodrigo met his end when he set off a suicide bomb in an unsuccessful attempt to kill his cousin. [1] Tani and Kikaze escaped from the explosion unharmed. They saw how another gaijin twisted by the Shadows easily defeated Takihiro. An Ashalan rider appeared, taking control of Esteban's will, and brought both to another hideout as prisoners. The harriers followed them, expecting to have an opportunity to free them. [2]
Atsuki's Death
Edit
The Imperial Legions led by the Shogun Kaneka under the Toturi's Battle Standard, appeared on sight and attacked the Gozoku stronghold. Elemental servitors and enslaved humans were the defenders. Kikaze and Tani used their bows to kill any enemy they could. When Kaneka in personal combat killed Bayushi Atsuki, the Gozoku leader, and the last Ashalan was dead, the battle was ended. The Harriers escaped the field unseen. [3] Later they found Esteban alive and unharmed. [4]
External Links
Edit
References
Ad blocker interference detected!
Wikia is a free-to-use site that makes money from advertising. We have a modified experience for viewers using ad blockers

Wikia is not accessible if you've made further modifications. Remove the custom ad blocker rule(s) and the page will load as expected.