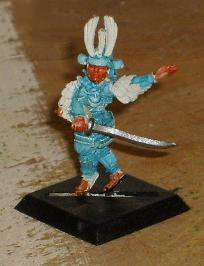 Daidoji Sonoko was a samurai-ko of the Crane Clan who fought in the Scorpion Coup. [1]
Sonoko was a harrier commander who knew all the techniques, tricks and traps of the secret war in her school. She was the archetypal leader for the saboteurs and harriers, knowing exactly how to plan the most disruptive raids and place the most imperceptible traps. [2]
Battle for Doji Palace
Edit
Sonoko was under the command of Doji Kuwanan during the Fall of Kyuden Doji. The Shadowlands forces led by the False Hoturi decimated the Crane defenders. [3]
See also
Edit
References
↑ Otosan Uchi: The Scorpion's Sting, p. 76
↑ Clan War: Crane Army Expansion, p. 48
↑ Clan War: Thunder's Challenge, pp. 8-10
Ad blocker interference detected!
Wikia is a free-to-use site that makes money from advertising. We have a modified experience for viewers using ad blockers

Wikia is not accessible if you've made further modifications. Remove the custom ad blocker rule(s) and the page will load as expected.