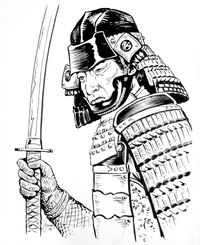 Daidoji Shogusha travelled extensively throughout Rokugan, from the Carpenter Wall to study the Shadowlands to fighting alongside the Lion Clan. His parents were killed in floods, so he was rised by his grandfather Hida Doreni. [1]
Dark Secret
Edit
While he was sailing his grandfather disappeared, only to be found as an undead of the Shadowlands. Shogusha fled instead to get rid of the monster his beloved grandfather had become. [1]
See Also
Edit
References
Ad blocker interference detected!
Wikia is a free-to-use site that makes money from advertising. We have a modified experience for viewers using ad blockers

Wikia is not accessible if you've made further modifications. Remove the custom ad blocker rule(s) and the page will load as expected.