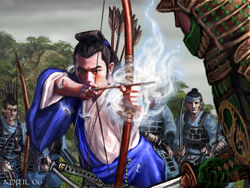 The Daidoji Scouts developed a style of warfare specialized in scouting, ambush, and precision strikes against vulnerable enemy assets like commanders and supply caravans. These activities were considered as dishonorable by many, but the rest of the clan provided them with political cover for their questionable actions. [1]
Known Daidoji Scout Techniques
Edit
See also
Edit
References
Ad blocker interference detected!
Wikia is a free-to-use site that makes money from advertising. We have a modified experience for viewers using ad blockers

Wikia is not accessible if you've made further modifications. Remove the custom ad blocker rule(s) and the page will load as expected.