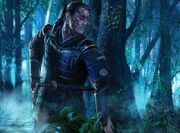 Daidoji Naito was a harrier of the Crane Clan.
Kumitae Tournament
Edit
In 1168 Naito participated in a martial arts tournament, the Kumitae Tournament, which prize was a recently discovered martial arts manual written by Shinsei himself, the Kumitae. He considered the contest a a great opportunity for glory. Naito fought the Mantis Yoritomo Suketsune in the first round and lost. One of the contenders, the ronin Masami was later exposed as a tainted Daigotsu's follower, and was killed by Hida Nichie. For her actions Nichie was considered a hero, and the final round was not disputed, being Nichie the Kumitae Champion. [1]
External Links
Edit
References
Ad blocker interference detected!
Wikia is a free-to-use site that makes money from advertising. We have a modified experience for viewers using ad blockers

Wikia is not accessible if you've made further modifications. Remove the custom ad blocker rule(s) and the page will load as expected.