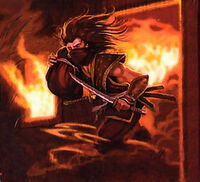 Daidoji Munabu was a harrier saboteur of the Crane Clan.
Imperial Legion
Edit
Munabu was appointed to the Imperial Legion for political reasons, and had feared he would be a disappointment to his family. He struggled with his weaknesses, keeping them hidden from his comrades and superiors. In 1159 Munabu fought in the Fall of Otosan Uchi, being grievously wounded by an Oni. [1]
Minion of the Nothing
Edit
A shadowy presence appeared and tempted Munabu, to be saved from the taint and the death. Munabu accepted to became an agent of the Ninube. He returned to Crane lands to provide all the information or services they required. Munabu gained new abilities, those blessed by the Nothing. [1]
External Links
Edit
References
Ad blocker interference detected!
Wikia is a free-to-use site that makes money from advertising. We have a modified experience for viewers using ad blockers

Wikia is not accessible if you've made further modifications. Remove the custom ad blocker rule(s) and the page will load as expected.