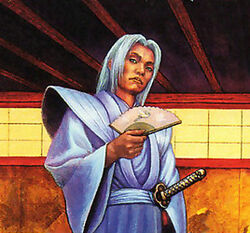 Daidoji Minoru was a courtier of the Crane Clan.
Toshi Ranbo
Edit
In 1166 Minoru was appointed as courtier at the Imperial Court at Toshi Ranbo. [1]
The Wanderer
Edit
In 1168 the Court received testimony from the Nezumi ambassador Zin'tch indicating the Emperor Toturi III had entered the Shadowlands. The Empress Toturi Kurako exposed Naseru had left Toshi Ranbo months ago as a wanderer seeking enlightenment. The Emerald Champion Yasuki Hachi would lead a rescue party with assembled forces from every Clan in the Crab lands. Near the ruins of Kosaten Shiro this news were reported by Minoru to Kakita Nakazo and Daidoji Kikaze. The Daidoji Daimyo ordered Nakazo to lead the Crane rescue party but he refused, because the appoinment he had as Taisa of the Crane army in the War of Silk and Steel made by the new Crane Clan Champion Doji Domotai could not be set aside. The point was accepted and the Crane party would be led by Kikaze. [1]
External Links
Edit
References
Ad blocker interference detected!
Wikia is a free-to-use site that makes money from advertising. We have a modified experience for viewers using ad blockers

Wikia is not accessible if you've made further modifications. Remove the custom ad blocker rule(s) and the page will load as expected.