Daidoji Mihoko was a scout bushi who became the Master sensei of the Mountain's Shadow Dojo. [1]
Gempukku
Edit
Mihoko had her gempukku during the War of Spirits. [1]
War of Spirits
Edit
His first scout party ended with her as only survivor, pressumed dead. She overcame her wounds and stalked the spirit party until they where totally eliminated. Mihoko was instantly recruited for the Mountain's Shadow Dojo by Daidoji Rekai herself. [1]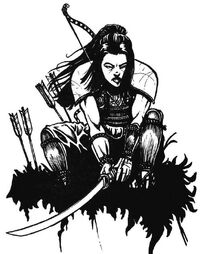 Mihoko became the sensei after never failed a mission and never lost an operative while in the field. [1]
External Links
Edit
References
Ad blocker interference detected!
Wikia is a free-to-use site that makes money from advertising. We have a modified experience for viewers using ad blockers

Wikia is not accessible if you've made further modifications. Remove the custom ad blocker rule(s) and the page will load as expected.