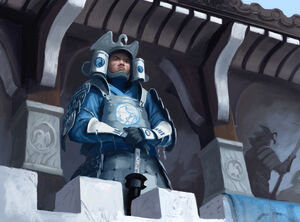 Daidoji Kojima was an Iron Crane of the Crane Clan, and rumored to have had a relationship with Hiruma Aya once following a drunken encounter at the Spicy Carp. [1]
Service with the Crab
Edit
Kojima was known to have served on the Carpenter Wall. [2]
Third Yasuki War
Edit
Kojima the later fought during the Third Yasuki War against the Crab Clan, and was among those involved in the skirmish at The Cherry Blossom Snow brewery in 1169, where he took Aya's head. [2]
External Links
Edit
References
Ad blocker interference detected!
Wikia is a free-to-use site that makes money from advertising. We have a modified experience for viewers using ad blockers

Wikia is not accessible if you've made further modifications. Remove the custom ad blocker rule(s) and the page will load as expected.