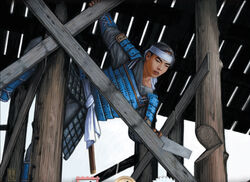 Daidoji Kinta was a bushi of the Crane Clan.
The Currency of War
Edit
In 1199 Kinta was appointed in one of the Crane passes of the Spine of the World Mountains. During the inspection of a Mantis merchant caravan, Kinta detained Tarui, a guard hired by the Mantis, due to the accusations made by the magistrate Doji Hikaro, who had had more than one run-in during the travels of the ronin through this region. Tarui perished under extremely questionable circumstances. The disagreement over the merchant caravan rapidly escalated into a conflict between the Crane and Mantis clans. [1]
External Links
Edit
References
Ad blocker interference detected!
Wikia is a free-to-use site that makes money from advertising. We have a modified experience for viewers using ad blockers

Wikia is not accessible if you've made further modifications. Remove the custom ad blocker rule(s) and the page will load as expected.