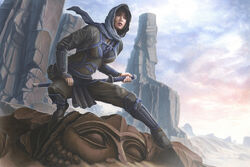 Daidoji Kenshi was a scout Iron Crane of the Crane Clan. She was companion of Daidoji Tametaka. [1]
Kenshi fought in the War of the Twins, [2] the only war allowed during the Age of Conquest, with their Phoenix allies against the Scorpion Clan.
Kenshi was appointed as yojimbo to Kakita Kazan. In 1198 they moved to the Aerie, in the Colonies, alongside the scholar Doji Iza, to inspect the texts kept by Kitsuki Shizuro, hatamoto of Miryoku no Shima, an estate that belonged to both the Dragon and Crane. There they were met by Kitsuki Jakuei, replacement of Shizuro, his yojimbo Mirumoto Reiyu, and the guard Mirumoto Kyoshiro. [2]
External Links
Edit
References