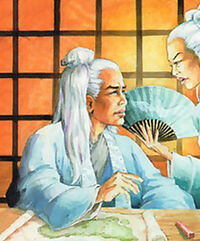 Yasuki Heizo was a Yasuki Merchant of the crab Clan who stayed with the Crane Clan after the Crab won back the Yasuki lands, taking the name of Daidoji Heizo. [1]
Changing Loyalties
Edit
Never fully satisfied with the methods and lifestyle of a Crab merchant, Heizo saw opportunity during the initial stages of the Second Yasuki War. The first time he was even remotely near the Crane provinces, he left the Crab and swore fealty to the Crane. Months later, when the Yasuki were split evenly between the two clans, he personally swore his eternal allegiance to the Daidoji Daimyo's heir, Daidoji Kikaze, in a private ceremony. [2]
Crane Clan
Edit
Heizo found little acceptance among the Daidoji Trading Council and their allies. They believed he could not be trusted, and allowed him only the most superficial involvement in their activities. Heizo had an incredible ability to identify with and inspire those heimin merchants who serve him, and used his gifts to impress those few within the Council who were beginning to take note of his spectacular successes. [3]
External Links
Edit
References
Ad blocker interference detected!
Wikia is a free-to-use site that makes money from advertising. We have a modified experience for viewers using ad blockers

Wikia is not accessible if you've made further modifications. Remove the custom ad blocker rule(s) and the page will load as expected.