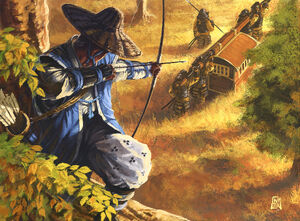 Daidoji Gensai was a bushi, scout, and Iron Crane of the Crane Clan.
Training
Edit
Gensai increased his archery skills training with the ascetic archers of the Asahina family. [1]
Dark Naga
Edit
Gensai was appointed as scout in the Western Wastes, [2] alongside Ikoma Takakura. They found a Naga arrow, and hurried to give word to Journey's End City that the Dark Naga, recently banished from the Empire, were heading to the Second City. [1]
External Links
Edit
References
Ad blocker interference detected!
Wikia is a free-to-use site that makes money from advertising. We have a modified experience for viewers using ad blockers

Wikia is not accessible if you've made further modifications. Remove the custom ad blocker rule(s) and the page will load as expected.