Daidoji Anitano was a yojimbo of the Crane Clan. He was servant of the Hatamoto at Ryoko Owari Toshi, Doji Tsumetsu. [1]
Crab lands
Edit
Anitano fought at many battles against the Crab. He found a fine sword in the swamplands near the Crab border of the Shadowlands. [2]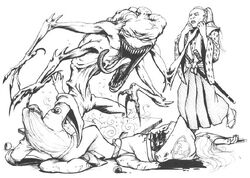 In 1120 he was attacked inside the Inn of the Orange Blossom by Chizaro no Oni alongside his charges Doji Juzo and Doji Usiina. Anitano was quickly killed and Usiina also died from wounds taken in the fray. [3]
The sword he found in the Shadowlands could be the item the oni was seeking. [2] It was the Blade of Secrets, a powerful nemuranai with the power to kill an oni. The blade had been stolen by Togashi Ikyoto, an ise zumi who owed a debt to Whisper, a city merchant, who had the blade. [4]
After death
Edit
A group of bandits attacked the crematorium where his corpse would be burnt, but the assailants were defeated by a group of samurai. [5]
References
Ad blocker interference detected!
Wikia is a free-to-use site that makes money from advertising. We have a modified experience for viewers using ad blockers

Wikia is not accessible if you've made further modifications. Remove the custom ad blocker rule(s) and the page will load as expected.