Daidoji Akimasa was a bushi scout of the Crane Clan. He disliked the Shogun, Akodo Kaneka.
War against Shadow
Edit
In 1133 Akimasa fought in the Battle of Oblivion's Gate. [1]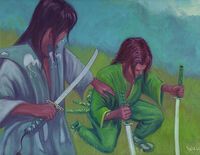 Yoritomo Sen challenged Akimasa [2] and the Mantis was defeated in the duel. [3]
Blood Hunt
Edit
In 1166 Iuchiban forced his servants to action, driving them to self-destructive acts of chaos, and Akimasa's unit was ordered to hunt bloodspeakers north of the Spine of the World Mountains, alongside with Daidoji Kitagi and Kakita Himatsu. There they found a newly gate between realms, and Akimasa returned to ask for reinforcements to secure the passage, and to study it, while Himatsu and Kitagi guarded it. [1]
Akimasa was selected as judge of Hunting contest in the Topaz Championship. [4]
The Iron Crane
Edit
When Akimasa returned he had several surprises. Kitagi had disobeyed his orders and had entered the gate with Himatsu, revealing the passage led to Maigo no Musha. Inside the Realm of the Twarthed Destiny Himatsu had been exposed as bloodspeaker, and had been deathly wounded. His murderer was the most important event Akimasa could remember in his life, the return of a shadow who claimed to be Daidoji Uji in a nightmare world where Fu Leng defeated the Seven Thunders at the Second Day of Thunder and reigned over a twisted version of Rokugan. [1]
External Links
Edit
References
Ad blocker interference detected!
Wikia is a free-to-use site that makes money from advertising. We have a modified experience for viewers using ad blockers

Wikia is not accessible if you've made further modifications. Remove the custom ad blocker rule(s) and the page will load as expected.