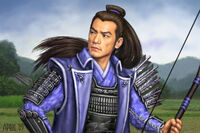 Daidoji Akagi was a harrier scout of the Crane Clan who found enlightenment.
Enlightenment
Edit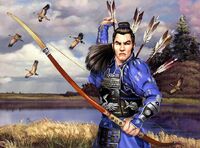 As a harrier, Akagi's methods were not always honorable, even though the objectives he fought for were necessary. Akagi was conflicted by this until he came to the realization that it did not matter. He would continue to protect the Crane and kill their enemies - even if he could not be a good man, he would ensure that other Crane could be. [1]
Cherry Blossom Snow Village
Edit
Akagi was a part of the group of Daidoji who ambushed the brewery in Cherry Blossom Snow Village in 1169 during the Battle of Cherry Blossom Snow Village. He fired the arrow that wounded Hiruma Aya, giving Daidoji Kojima the advantage in their fight. [2]
Akagi obtained the rank of Chui of the Third Legion of the Daidoji Army. [3]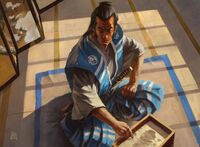 Akagi became a sensei and passed his knowledge to the new generations. [4] The exact fate of Akagi was unknown but he was dead before the end of the 12th century. [5]
External Links
Edit
References