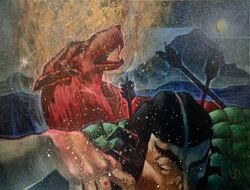 Curse of the Jackal was a Mastery 4 water spell which affected the mind and countenance of its target, reducing him or her to an animal state. The victim would lose the ability to think or reason. The Unicorn brought it from the Burning Sands. [1]
External Links
Edit
References
Ad blocker interference detected!
Wikia is a free-to-use site that makes money from advertising. We have a modified experience for viewers using ad blockers

Wikia is not accessible if you've made further modifications. Remove the custom ad blocker rule(s) and the page will load as expected.