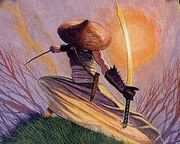 Crystal Katana were katana made from crystal, which were significant weapons against the Shadow. [1]
Weapon against Tainted
Edit
Sometimes even reflected light off a crystal weapon was enough to cause shadow creatures pain. [2] It was said that purified crystal items shone brightly when they were in the presence of Shadowlands creatures, because the spirit inside the blade reacted to the Taint. [3]
Crystal Katana were also useful against trolls. [4] [5]
External Links
Edit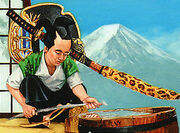 References