Ad blocker interference detected!
Wikia is a free-to-use site that makes money from advertising. We have a modified experience for viewers using ad blockers

Wikia is not accessible if you've made further modifications. Remove the custom ad blocker rule(s) and the page will load as expected.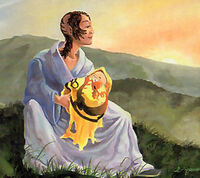 Crow tattoo was named for the faithful companion of Shinsei. Once the crow had been a brightly colored bird, but after it followed Shinsei into the Shadowlands on the Day of Thunder it returned with blackened feathers. When summoning the power of the crow tattoo the monk becomes immune to the Shadowlands taint for a number of days. The creatures of the Shadowlands hate the crow, and can sense a monk with the crow tattoo from a mile away, and will prefer to attack monks with the tattoo. [1]
People known to have this Tattoo
Edit
External Links
Edit
References