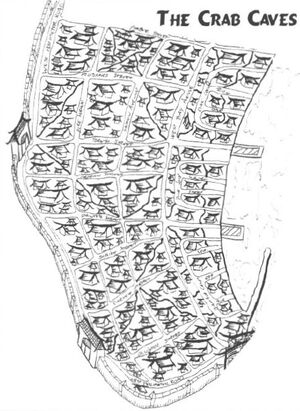 The Crab Caves was one of the neighborhoods of the Fisherman Quarter at Ryoko Owari Toshi. It lied between the Wretched Gate and Timber Street. [1]
The name of this neighborhood was earned when the Crab army of Hida Atsushige was seduced and broken, ensuing the Liberation Day. [1]
The Fire Eaters kajinin were responsible for fire fighting. [2]
Activities
Edit
It was the location of city's first brothel district, but since the licensing of Teardrop Island, it became a second-rate nightless city. The biggest fish city market was located there. [1]
Notable Locations
Edit
References
↑ City of Lies: Player's Guide, p. 25
↑ City of Lies: Location Guide, p. 12
Ad blocker interference detected!
Wikia is a free-to-use site that makes money from advertising. We have a modified experience for viewers using ad blockers

Wikia is not accessible if you've made further modifications. Remove the custom ad blocker rule(s) and the page will load as expected.