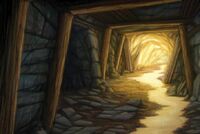 Copper Mines were most commonly found in Lion Clan lands, and highly valued because of the lack of other abundant metals in their lands. [1] Vast deposits were found in the Lookout Mountain after the outcrop suddenly appeared in a previously plain area. [2]
Tainted Mines
Edit
The copper mines located in tainted areas were called Corrupted Copper Mines. [3]
Zokujin workers
Edit
For a time they used Zokujin to excavate the mines, [4] until they fled into the Spine of the World Mountains. Since then the duty of mining copper fell to the heimin of the Lion Clan. [5]
Senpet Mines
Edit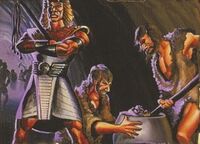 The Senpet Empire also used forced work in their copper mines, as they practiced slavery. [6]
References
Ad blocker interference detected!
Wikia is a free-to-use site that makes money from advertising. We have a modified experience for viewers using ad blockers

Wikia is not accessible if you've made further modifications. Remove the custom ad blocker rule(s) and the page will load as expected.