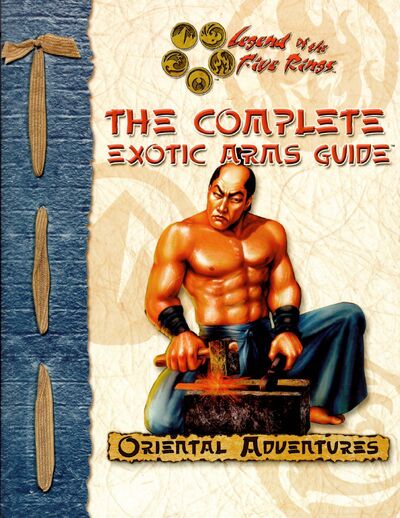 The Complete Exotic Arms Guide is intended to serve as the ultimate source of information on any and all weapons that are regularly encountered within in the Legend of the Five Rings Roleplaying Game.
Writting: Shawn Carman, Jed Carleton, Rob Dake, Chris Hand, Kim Hosmer, Seth Mason, Aaron Medwin, Fred Wan, Rich Wulf, Brian Yoon
Editor: D.J. Trindle
Additional Editing: Katie Yates
Creative Director: Mark Jelfo
Art Director: Jim Pinto
Graphic Designer: Nate Barnes
Cover Artist: April Lee
Interior Artist: Cris Dornaus, Raven Mimura
Cartographers: Cris Dornaus, Robert Lee
Typesetter: Nate Barnes
Chief of Operations: Maureen Yates
Brand Manager: Raymond Lau
Production Manager: Mary Valles
Layout and Graphic Design Based on Work by: Cynthia Fliege & Dawn Murin
Playtesters: Mikel Burns, Ryan Carman, Jacobe Callahan, Jed Carleton, Jacob Chearham, Andy Cowell, Robert Dake, Joel Parker Kinstle, Chris Lesinsky, Paul Meador, Dan Moenster, Christopher Osborn, Marc Quintard, Matthew Schenck, Sam Sheddan, Cynthia Steward, Louis Veal
Table of Contents
Edit
Introduction (page 3)
Edit
Chapter 1: Weapons (page 7)
Edit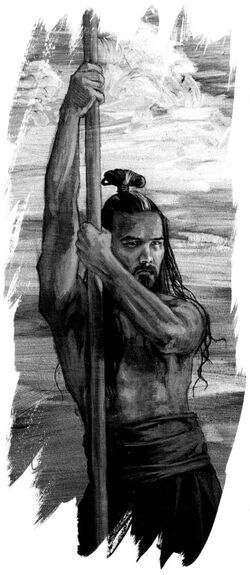 Ninja Weapons
Miscellaneous
Chapter 2: Armor (page 31)
Edit
Chapter 3: Siege Weapons (page 41)
Edit
Chapter 4: Nemuranai (page 49)
Edit
Chapter 5: Gaijin Weapons (page 67)
Edit
Chapter 6: Nonhumans (page 81)
Edit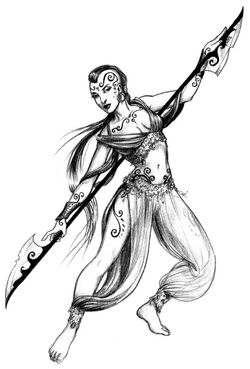 The Nezumi
The Naga
Other Non-Humans
Ad blocker interference detected!
Wikia is a free-to-use site that makes money from advertising. We have a modified experience for viewers using ad blockers

Wikia is not accessible if you've made further modifications. Remove the custom ad blocker rule(s) and the page will load as expected.