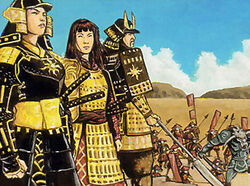 Command Groups provided an army leadership with an overview of the battle as it progressed, allowing them to respond to developing situations with greater speed and attain better results. It was formed by the General of the army, his Hatamoto, several Signal Corps, few Courtiers as political advisors, and Yojimbo. The General watched the battle from a nearby hill or raised platform with his counselors and high ranking officers at hand. From that vantage point, he would send orders to his regiments with flags. [1]
External Links
Edit
References
↑ Clan War: Crane Army Expansion, pp. 25-26
Ad blocker interference detected!
Wikia is a free-to-use site that makes money from advertising. We have a modified experience for viewers using ad blockers

Wikia is not accessible if you've made further modifications. Remove the custom ad blocker rule(s) and the page will load as expected.