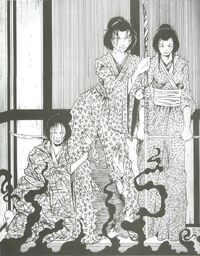 Closing Night was a play written by Hiruma Nabuko which depicted the final days of Hiruma Castle from the perspective of the wife and daughters of a Hiruma general. It was first performed in the Yasuki Winter Court during the early 10th century. The final scene, in which the general slaughtered his own family, were so shocking and horrifying that the play was forbidden from being performed again. [1]
Hiruma Tomono was married to a bushi, who returned home after his unit was defeated and he had joined the Lost. Tomono's husband was not allowed to enter home despite he claimed the Crab had won the battle. An eight year old daughter, Hiruma Nichiko, did not fully understand what was happening, only wishing to meet her returning father. The elder children, Hiruma Isoko, a boy who still had not passed his gempukku, barely held a naginata to pincer the undead if he could manage to enter the house. The scene was scary and disturbing. [2]
References
Ad blocker interference detected!
Wikia is a free-to-use site that makes money from advertising. We have a modified experience for viewers using ad blockers

Wikia is not accessible if you've made further modifications. Remove the custom ad blocker rule(s) and the page will load as expected.