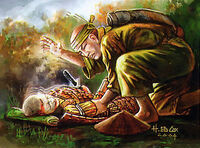 Cleansing Spirit was a Mastery 4 internal earth kiho that allowed the monk gain access to a fraction of the earth's elemental purity by aligning his chi. The kiho attempted to purge all poisons and corruptive influences on the monk. Devoting the spirit to protect the body left the mind vulnerable, and it would be easier to manipulate or influence the monk while performing the kiho. [1] [2]
External Links
Edit
References
Ad blocker interference detected!
Wikia is a free-to-use site that makes money from advertising. We have a modified experience for viewers using ad blockers

Wikia is not accessible if you've made further modifications. Remove the custom ad blocker rule(s) and the page will load as expected.