Clay Soldiers were terracotta warriors constructed and animated through a magic ritual, to be used in combat, usually as guards. [1] During the Clan War they were used by the Phoenix as a deterrent to battle - enemies' numbers are reduced while fighting mere magical constructs or for holding positions or for anchoring a flank during battle. [2] They were also used in the Ivory Kingdoms, ressembling Kshatriya warriors. [3]
Known Clay Soldiers
Edit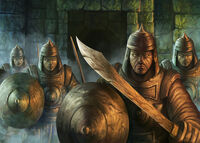 See also
Edit
External Links
Edit
References
Ad blocker interference detected!
Wikia is a free-to-use site that makes money from advertising. We have a modified experience for viewers using ad blockers

Wikia is not accessible if you've made further modifications. Remove the custom ad blocker rule(s) and the page will load as expected.