Clay Horse 
Created by:
Naka Kuro
First used by:
Unknown
Currently in the possession of:
Unknown
Nemuranai
The Clay Horse was both an Earth Spell of Mastery 1 and a minor nemuranai devised by Naka Kuro upon studying the Crane Tsangusuri and Unicorn Meishodo. To cast the spell, the shugenja must have a small clay statue of a horse. When the spell was cast, the shugenja gave the horse to another and asked them to name it, who would be the only one who could use. The wielder was unaffected by exhaustion and did not sleep during the duration of the spell. [1]
External Links
Edit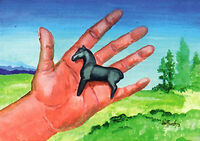 References
↑ Way of the Wolf, p. 115
Ad blocker interference detected!
Wikia is a free-to-use site that makes money from advertising. We have a modified experience for viewers using ad blockers

Wikia is not accessible if you've made further modifications. Remove the custom ad blocker rule(s) and the page will load as expected.