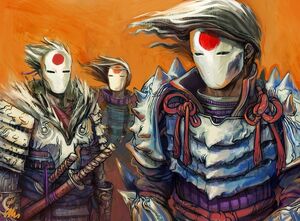 Claws of the Wolf was a small Otokodate, formed by vicious vigilantes who subscribed to the ideals of Toturi Sezaru, the Wolf. They attempted to eradicate threats to the Empire's stability or to its people. The members wore ceramic masks similar to the one made famous by Sezaru himself. [1]
Known Technique
Edit
External Links
Edit
References
↑ Enemies of the Empire, p. 200
Ad blocker interference detected!
Wikia is a free-to-use site that makes money from advertising. We have a modified experience for viewers using ad blockers

Wikia is not accessible if you've made further modifications. Remove the custom ad blocker rule(s) and the page will load as expected.