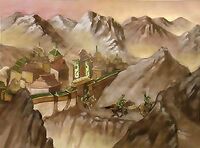 The City of Loyalty represented the power of Earth.
Appearance
Edit
It was a place of high walls and castles. [1]
The Five Cities
Edit
In 1133 at the Battle of Oblivion's Gate, five cities stood at the edge of Yomi, Realm of the Blessed Ancestors. Each city was infused with the power of the elements, Earth, Fire, Water, Air, and Void. In these cities, the blessed shiryo and faceless Goju clashed to determine the fate of the Celestial Order. Outnumbered by their shadowy enemies, the ancestors faced a battle they could not win. In the Mortal Realm, the Elemental Council heard their plea and enacted a ritual like none other in history, a ritual that would draw these five cities to the mortal realm where reinforcements could arrive to fight the spawns of Nothing back. [2]
Crossing Yomi
Edit
It appeared near the Phoenix town of Nikesake. After the War Against Shadow ended the city was initially claimed by the Wolf Legion, but the Legion later gifted it to Isawa Kaede and the Phoenix Clan as a dowry for her marriage to Toturi. The ronin remained there with the Phoenix's agreement, and the city eventually housed a small dojo for Phoenix Earth Isawa Tensai. [1]
External Links
Edit
References
Ad blocker interference detected!
Wikia is a free-to-use site that makes money from advertising. We have a modified experience for viewers using ad blockers

Wikia is not accessible if you've made further modifications. Remove the custom ad blocker rule(s) and the page will load as expected.