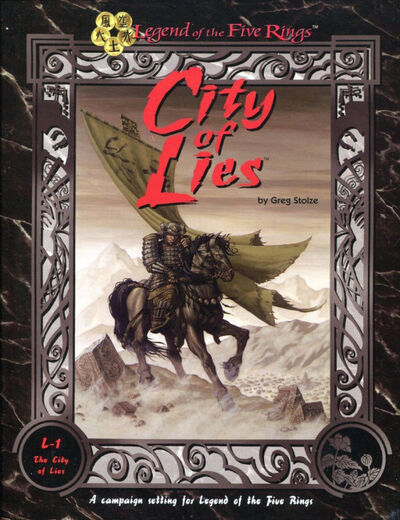 City of Lies; Box Set (L-1) was an adventure book for the Legend of the Five Rings roleplaying game.
City of Lies; GM's Guide: Table of Contents
Edit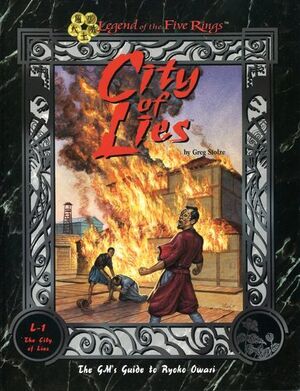 The Truth Behind the Lies (page 4)
Edit
Welcome, New Magistrates!
It's a Popularity Contest
Attitude Chart
Clan Loyalties
Naritoki's assassin
Rank Has Its Privileges
Ryoko Owari for Non-Magistrates
Things To Do In Ryoko Owari (page 58)
Edit
What's This Map Doing Here? (page 94)
Edit
City of Stories: The Player's Guide: Table of Contents
Edit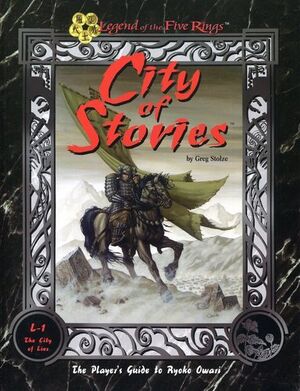 Charter of the Emerald Magistrate (page 4)
Edit
Travelogue Sources (page 10)
Edit
Ways of the City (page 11)
Edit
The Colorful Language of Ryoko Owari
Local Customs and Holidays

Your Own Cup
The First Boar

Bribes
The Patronage system
A Political Overview
A Word on the Opium Situation
The City (page 28)
Edit
The People of Ryoko Owari (page 44)
Edit
Table of Contents for "The People of Ryoko Owari"
Threats to Public Order (page 82)
Edit
Naritoki's Assassin
"Fade"
The Ryoko Owari "Ninja"
"The Wind"
City of Green Walls: Guide to the Map: Table of Contents
Edit
How to Use this Book (page 4)
Edit
Yemon's Legacy (page 5)
Edit
Appendix (page 55)
Edit
The Journal of Ashidaka Noritoki
Edit
Ad blocker interference detected!
Wikia is a free-to-use site that makes money from advertising. We have a modified experience for viewers using ad blockers

Wikia is not accessible if you've made further modifications. Remove the custom ad blocker rule(s) and the page will load as expected.