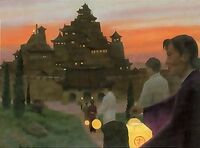 The City of Empty Dreams represented the power of the Void.
The Five Cities
Edit
In 1133 at the Battle of Oblivion's Gate, five cities stood at the edge of Yomi, Realm of the Blessed Ancestors. Each city was infused with the power of the elements, Earth, Fire, Water, Air, and Void. In these cities, the blessed shiryo and faceless Goju clashed to determine the fate of the Celestial Order. Outnumbered by their shadowy enemies, the ancestors faced a battle they could not win. In the Mortal Realm, the Elemental Council heard their plea and enacted a ritual like none other in history, a ritual that would draw these five cities to the mortal realm where reinforcements could arrive to fight the spawns of Nothing back. [1]
Crossing Yomi
Edit
It appeared on an island off the coast of the Phoenix lands. Only Ishiken could see it, and even they found it was not always present. It was said one could see both the past and the future within the City of Empty Dreams, even glimpses of worlds which never existed. [2]
External Links
Edit
References
Ad blocker interference detected!
Wikia is a free-to-use site that makes money from advertising. We have a modified experience for viewers using ad blockers

Wikia is not accessible if you've made further modifications. Remove the custom ad blocker rule(s) and the page will load as expected.