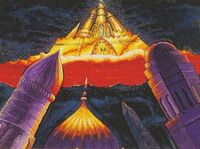 The City of Bronze was a flying mythical jinn city [1] lost in the Burning Sands when it was grounded during the Day of Wrath. [2]
Destroyed
Edit
In 1132 the city was found by the Ebonite Pashal, buried in the sands. [2] Following the return of the Jinn Lord Kaleel and his Legion, the city had been destroyed, shortly after the Awakening. Few survivors of the crash returned to Medinat al-Salaam to speak of the horrors that Kaleel had unleashed from the Black Earth and beyond, and those that did shared little hope for the rest. [3]
Jinn's Citadel
Edit
Following the return of Kaleel and his Legion, the city was again hovering the Burning Sands, shortly after the Awakening. It was lost again when the Celestial Alliance defeated Kaleel, and the remnants of Kaleel's citadel settled in ruin across the dunes. [4]
Qer Apet was appointed at the city. [3]
External Links
Edit
References
Ad blocker interference detected!
Wikia is a free-to-use site that makes money from advertising. We have a modified experience for viewers using ad blockers

Wikia is not accessible if you've made further modifications. Remove the custom ad blocker rule(s) and the page will load as expected.