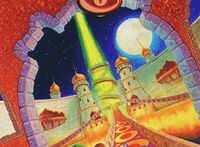 The Citadel of the Celestial Alliance was the only city were the free jinn dwelled. It was the one remaining jinn citadel free from Shilah's ancient wrath. [1]
It had a bridge which ended in two giant bronze doors. [1]
After the Day of Wrath
Edit
When the first free Jinn decided to flee the tyranny and slavery of man after the Day of Wrath they took service as equals with Sahir. As time passed they sought out and freed a number of their brethren. Soon they realised that a place to live away from the humans was needed. So the Citadel was used to house them. Floating some distance of the ground, the Jinn city remained hidden at this point, its location known only to a select few in order to protect it from the dark Jinn and humans. [citation needed]
Headquarter
Edit
The Celestial Alliance used it as their headquarters, and the humans began to know and visit it. [citation needed]
In 1132 was celebrated the wedding between two Alliance members, Sahalah, daughter of the murdered Sultan, and Saqr al Fediq, a jinn Sahir who had taken human form, into the hallways beneath the Citadel. [1]
Attacked
Edit
Shortly after the Citadel was assaulted by the Kaleel's Legion. In the following counterattack Kaleel was destroyed, and the Khayel fueled to the stars. The members of the Alliance followed to fight it, fading from the Mortal Realm. [2] It was not known what had happened later with the Citadel.
External Links
Edit
References
Ad blocker interference detected!
Wikia is a free-to-use site that makes money from advertising. We have a modified experience for viewers using ad blockers

Wikia is not accessible if you've made further modifications. Remove the custom ad blocker rule(s) and the page will load as expected.