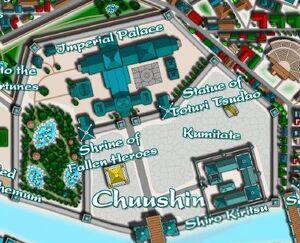 The Chuushin District of Toshi Ranbo was home of the Imperial Palace and most of the Imperial Bureaucracy. [1] The district was defined by the original outer defensive works and walls of Toshi Ranbo, which had been extensively modified and reconstructed over centuries. [2] The district saw more traffic than any other because of its location and its control allowed direct access to the Imperial Bureaucracy. [3]
Notable Locations
Edit
The District was located in what remained of the original city of Toshi Ranbo, before it became the Imperial City. The core district was surrounded by the original walls of the town. The Imperial palace sat across a broad open area from the original castle, surrounded by its own wall. Just to the south of the Palace was a large open area known as the Kumitate, or field of assembly. Most of the rest of the Chuushin district was taken up by the original castle of Toshi Ranbo, which was renamed and remodeled as Shiro Kiritsu, the Castle of Law. [1] The other structure was the Shrine of Fallen Heroes, whih wass originally the ancestral shrine of Akodo Arasou, the Lion Clan Champion. [4]
War of Red Snow
Edit
In 1169 during the Battle of Toshi Ranbo the gatehouses on the western side of the river were damaged, but the rest of the district remained intact at large. [1]
Known Governors
Edit
References
↑ The Atlas of Rokugan, p. 285
↑ The Atlas of Rokugan, p. 286
Ad blocker interference detected!
Wikia is a free-to-use site that makes money from advertising. We have a modified experience for viewers using ad blockers

Wikia is not accessible if you've made further modifications. Remove the custom ad blocker rule(s) and the page will load as expected.