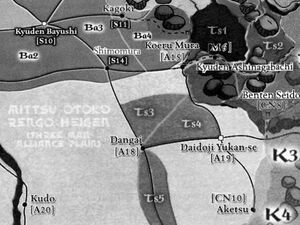 The Chuuhan province (Ts3) was one of the central Tsuruchi provinces. It was bordered in the north by the lands of their ancestral enemies, the Scorpion Clan, by the provinces of Ashinagabachi (Ts1) and Douro (Ts4) in the east, being enveloped in the rest of its borders by the Three Man Alliance Plain. [1] Its most notable holding was Quiet Stream Village. [2]
References
Ad blocker interference detected!
Wikia is a free-to-use site that makes money from advertising. We have a modified experience for viewers using ad blockers

Wikia is not accessible if you've made further modifications. Remove the custom ad blocker rule(s) and the page will load as expected.