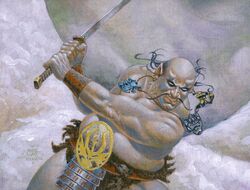 Chutoburo was a tainted ogre. He fought during the Time of Demons in the Battle at the Wall of Bones and saw the arrival of the Damned led by Kyofu. [1]
Free Ogre
Edit
Chutoburo was a mindless ogre of the Shadowlands who was beaten by Kayomasa, a free ogre, who brought him before before his Lord, Daigotsu. The Dark Lord relinquished the control that Jigoku had on the ogre's mind, and over time his memory started to return. [2]
Time of Demons
Edit
During the Battle at the Wall of Bones Chutoburo was assigned the section they believed would be hit hardest by the horde of goblins and oni who attacked them. It was his unit that first saw the army of the Damned as they approached. [2]
Age of Exploration
Edit
When the Spider Clan was elevated to Great Clan status, Chutoburo moved to the Colonies. He took to a life of wandering, staying as close as he dared to the Spider and Kayomasa. [2]
See also
Edit
External Links
Edit
References
Ad blocker interference detected!
Wikia is a free-to-use site that makes money from advertising. We have a modified experience for viewers using ad blockers

Wikia is not accessible if you've made further modifications. Remove the custom ad blocker rule(s) and the page will load as expected.