Crossroads Fortress was once known as Central Castle, and was located in Tonfajutsen in the middle of Lion lands. An entire legion of quartermasters and officers was permanently stationed at the castle, to handle with the Tonfajusen's seemingly endless storehouses. [1]
Enhanced Castle
Edit
The castle defense must rely on man-made fortifications, because there were no natural features to take advantage of. It housed five thousand men in arms, but after the Tsuno attacks in the 12th century was enhanced to a capacity of twenty thousand troops. [2] It was the headquarters of the First Matsu Army. [3]
Known Governors
Edit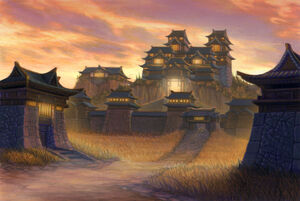 External Links
Edit
References
↑ Legend of the Five Rings; Fourth Edition, p. 344
↑ Secrets of the Lion, p. 65
↑ Masters of War, p. 74
Ad blocker interference detected!
Wikia is a free-to-use site that makes money from advertising. We have a modified experience for viewers using ad blockers

Wikia is not accessible if you've made further modifications. Remove the custom ad blocker rule(s) and the page will load as expected.