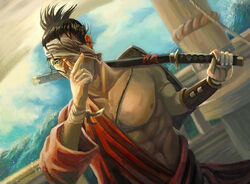 Chun was a mercenary, captain of The Tachikaze, [1] who attacked Mantis ships. [2]
Mercenary
Edit
In 1198 during the Mantis-Crane War in the Colonies no vessel were allowed to sail from Tsukareru Sencha Mura without permission during the conflict. Chun was hired by magistrate Kakita Ichigiku, who had become stuck in the tiny island in front of the Aerie. When Mantis invaded the island, he escaped with his first Mate Michi and Ichigiku. [3]
External Links
Edit
References
Ad blocker interference detected!
Wikia is a free-to-use site that makes money from advertising. We have a modified experience for viewers using ad blockers

Wikia is not accessible if you've made further modifications. Remove the custom ad blocker rule(s) and the page will load as expected.