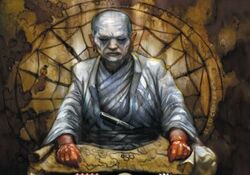 Chuda Tairao was a tainted shugenja of the Spider Clan. He forsake his family name and became Tairao when decided to remain with the Spider during the Chuda defection. [1] He returned to the Spider during the rise of Jigoku, and took again his family name. [2]
Second Seal
Edit
In 1200 Tairao was the leading member of the Spider forces who moved near Cold Wind City to destroy the Second Seal. He used the severed arm of Isawa Norimichi, the late Master of Earth, to raise the buried Temple of the Second Seal. The Master of Water Asako Miyabi confronted Tairao, and eventually the Daidoji Daimyo Daidoji Akeha intervened and severed Tairao's arm. He replaced his arm with Norimichi's, and counterattacked Akeha, who was saved only by the intervention of the Master of Water. Tairao took advantage of Miyabi's distraction and used the earth kami to destroy the Temple and the Second Seal within it. [2]
External Links
Edit
References
Ad blocker interference detected!
Wikia is a free-to-use site that makes money from advertising. We have a modified experience for viewers using ad blockers

Wikia is not accessible if you've made further modifications. Remove the custom ad blocker rule(s) and the page will load as expected.