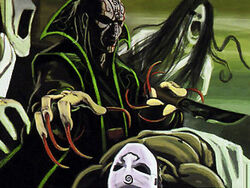 Chuda Shikyo was a tainted shugenja of the Spider Clan who became a Jiang Shi.
Joining the Chuda
Edit
Shikyo lived in the City of the Lost, and possessed an amazing rapport with kansen. When he came of age, Shikyo was inducted into the Chuda family. [1]
When Iuchiban seized the City, Shikyo was killed by jealous peers decided to remove a potential rival. As his soul was being dragged into Jigoku, Shikyo clawed at the boundries of the Spirit Realm and latched hold of something solid. He was eventually reborn into the world of the living after five years, when Daigotsu, again the Dark Lord of the Shadowlands, was moving to the Shinomen Mori. [1]
Jiang Shi
Edit
Shikyo as a Jiang Shi had the ability to regenerate itself, could not perceive living creatures save for their exhalations of breath, and was forced to feed upon the others' chi in order to prolong its own existence. [1]
Necromancer
Edit
When Chuda Jinsei began to work with the Jackal Necromancers to refine the process used to create undead, he handpicked Shikyo to assist with their research. [2]
Night of Assassins
Edit
Shikyo was in charge of assigning the assassins that enacted Daigotsu's will during the Night of the Assassins. [3]
See also
Edit
References
↑ Masters of Magic Web Supplement, p. 10
Ad blocker interference detected!
Wikia is a free-to-use site that makes money from advertising. We have a modified experience for viewers using ad blockers

Wikia is not accessible if you've made further modifications. Remove the custom ad blocker rule(s) and the page will load as expected.