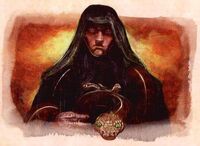 Chuda Kyuwa was a tainted shugenja of the Spider Clan.
Invitations to Winter Court
Edit
Through deception Chuda Chiaki was able to procure some invitations to attend Winter Court at Kyuden Otomo from the Crane Clan, which she then delivered to Daigotsu through Chuda Kyuwa. [1]
Jade Championship - 1169
Edit
When in 1169 the Jade Championship was called Daigotsu decided to send Katsu, who bore no taint. The Khadi chose to go alongside Chuda Mishime and Kyuwa. They had minimal taint and were more than skilled enough to hide it, even without Jade Petal tea. Kyuwa did not know that if they were discovered, Katsu could prove his virtue to all present by destroying them himself. [2] [3]
External Links
Edit
References