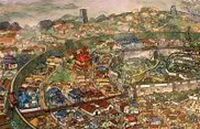 The Chisei district was one of the four inner districts, the Ekohikei, of Otosan Uchi. It was known for its complex political arena. [1]
Scorpion Coup
Edit
Chisei was the least afrected by the Scorpion Coup. The damaged structures along the Road of the Most High and the Forbidden City's wall were quickly repaired. [2]
Notable Locations
Edit
The Kanjo District was where visitors enjoyed the highest life of the samurai, a place of beauty, art, and perfection. Samurai of the Crane Clan were the traditional rulers of Chisei district. It was the location of the Road of the Most High, the special road on which the Emperor walked when he left the Forbidden City. [3]
References
Ad blocker interference detected!
Wikia is a free-to-use site that makes money from advertising. We have a modified experience for viewers using ad blockers

Wikia is not accessible if you've made further modifications. Remove the custom ad blocker rule(s) and the page will load as expected.