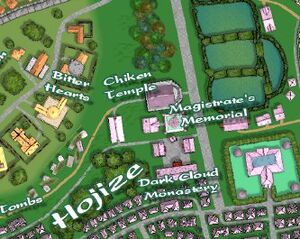 Chiken Temple, devoted to Osano-Wo, was built in the 10th century within the Hojize district of Otosan Uchi, upon the place where the Battle of Stolen Graves happened. The place had been decreed safe, but many claimed to hear the sounds of a forge, and a maniacal laughter, alongside with a voice whispering "Yajinden", so the temple was considered haunted. [1]
References
↑ Otosan Uchi:Book 1, p. 38
Ad blocker interference detected!
Wikia is a free-to-use site that makes money from advertising. We have a modified experience for viewers using ad blockers

Wikia is not accessible if you've made further modifications. Remove the custom ad blocker rule(s) and the page will load as expected.