Please note: This article is about the 12th century ronin. For other uses of the term, please see Chikara (disambiguation).
Demeanor
Edit
Chikara was mindful, dutiful, and attentive. He was all that was good in the Seppun family. [1]
Chikara was the son of Seppun Oishi, but he left his name behind in shame when Toturi I died in 1158, and became a ronin. [2]
Oishi's death
Edit
Chikara travelled with him, until Oishi died in 1173 at Taiki Mura during the Destroyer War. During his last moments on the battlefield he apologized to his son for passing along his shame and then gave him his blade as his last action. His father's commanding officer, Kakita Sadaka, then offered him protection. [3] Sadaka presented him as his hatamoto, as a way to encourage a boy that had lost his father shortly before. [4]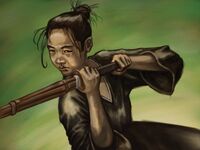 External Links
Edit
References
Ad blocker interference detected!
Wikia is a free-to-use site that makes money from advertising. We have a modified experience for viewers using ad blockers

Wikia is not accessible if you've made further modifications. Remove the custom ad blocker rule(s) and the page will load as expected.